Brand New Website!
Posted by Joe Tunis February 16, 2015
The Carbon website has really only existed in two forms, up until now. The very first version was super basic and ugly static HTML, back in 1994. The World Wide Web was still pretty new. Buying a domain name was an obscure and confusing process. The Way Back Machine still has the first version cached (without images) at this Nasty URL.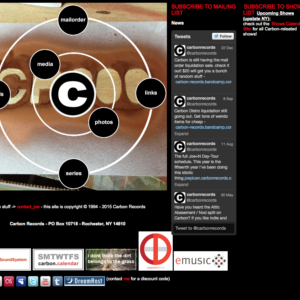 I finally bought carbonrecords.com in 1998 and in then in 2000, i created the more-designed site that would last until now. I had just learned PHP and MySQL (database crap) and the Carbon site was my test. Various parts of it have been re-done over the years, but until now, was never rewritten and redesigned entirely from scratch.
Welcome to the new Carbon Records website. I've redesigned it all, graphics, database, and organization, and have simplified the site. Hopefully this makes it easier to find info on bands, buy releases, and generally keep up on all things Carbon related. A bunch of the bands associated with Carbon will now have access to manage their own band pages, giving them a way to upload new songs, Soundcloud links, video links, news, etc. So if you have a favorite Carbon band (and hopefully more than one!), you'll be able to keep track of them and see what they're up to.
Please sign up for the newsletter (in the header on the home page). I'll be sending out newsletter every month or two.