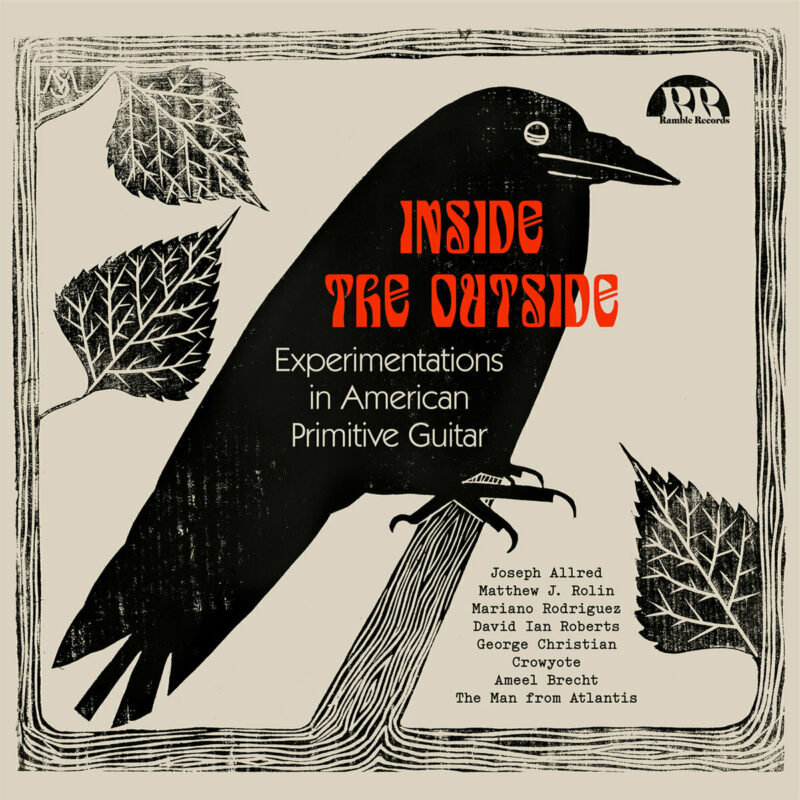 Various Artists
Inside the Outside​.​.​.​Experimentations in American Primitive Guitar
LP
Inside the Outside: is a collection of tracks by a group of artists from all corners of the globe influenced, inspired and playing acoustic, fingerpicking guitar in the Fahey/Basho, American Primitive guitar idiom.

While each artist has employed techniques and structures recognisable from the idiom, the interpretations are varied and draw on traditional folk, blues, psych, drone, free improvisation, ragtime, and Indian classical music.

The artists on Inside the Outside are all pursuing their craft with great integrity; self releasing their music, some by other labels and contributing to compilations like this one. I am extremely indebted to these fabulous musicians who were all willing to lay some tracks down from a newly launched label from the arse end of the world.

While much has been said about the use of American Primitive as terminology for describing this genre; while not a fan of this nomenclature myself, it's used here simply as a reference and to make the compilation easily identifiable and hopefully to move some units, pay debts and contributing artists.I appreciate that the term is not a crowd pleaser (particularly with fingerpicking artists) much the same way jazz artists historically were unable to resonate with the term 'jazz'. Greats such as Miles and Coltrane among others labelled their music as 'social music' or a 'spiritual expression'. Nonetheless for convenience and convention's sake, the title remains and I thank each artist for their dedication, brilliance, vision and unique composition which I consider to be a time capsule of where this particular genre is in 2021.

This selection also offers a wonderful insight into how the genre has evolved, and influenced each musician's style; whether it be Joseph Allred's haunting drone or George Christian and Amee Brecht's angular and amorphous free improvisation, each track on this compilation is both reminiscent and familiar while still being transcendental.

- Mike Sill / Ramble Records

The artists:

Joseph Allred: The Five Flavoured Tea:

Joseph Allred is a Boston-based guitarist and dabbler in other pursuits who is originally from Jamestown, Tennessee.

In Chinese mythology, "The Five-Flavored Tea" is a concoction served to spirits of the dead by the goddess of forgetfulness, Meng Po, as they depart the underworld to be reborn. Its purpose, like the waters of the river Lethe in the Greek underworld, is to erase the soul's memory of its past life and time spent in the underworld. Sometimes a soul may avoid drinking it, resulting in a person being born with memories intact.

Played in the Phyrigian mode (aka Bhairavi thaat) on a 1971 Guild D-40 tuned CGCGG#C.


Matthew J. Rolin: Dovetail

"Matthew J. Rolin is a guitarist living in Columbus, OH. Known for a unique style of instrumental solo guitar, he has many releases across a variety of labels and formats. A proud member of the new weird school of American underground music. Primarily a soloist, he also shares time in various configurations with other musicians, most notably Powers/Rolin Duo and Gerycz/Powers/Rolin. His next solo double LP "The Dreaming Bridge" is scheduled to be released on Feeding Tube Records in early 2021."

"Dovetail" was a work in progress when Mike asked me if I'd be willing to contribute a track to his compilation. Excited to be included on it, I spent a day messing around with the unfinished composition, and then recorded it the same night at home. I tried to keep it raw and feeling fresh, to me at least, by not over thinking it or spending weeks working on the arrangement. I think it's a happier sounding song compared to what I normally produce and I hope you like it.


Mariano Rodriguez: Window Mountain

Mariano Rodriguez is a self-taught guitarist who lives in Patagonia Argentina.His musical beginnings were in Buenos Aires, the capital of Argentina, playing in garage and punk rock bands. In 2003 when he moved from the city to the Andes Mountains he began to play acoustic guitar with open tunings and to record solo albums.

"La Montaña Ventana" is a mountain with a through hole at its top that looks like the eye of a cyclops. His house is at the foot of that mountain and the song is dedicated to her.
The natives of Patagonia believe that this mountain has special powers.

George Christian: Resgates Passados

George Christian is a Bahian composer and guitarist residing in Salvador (BA). With over 30 titles released, he is a prolific independent musician with the electric guitar as his main instrument in several instrumental explorations, including written pieces and orchestral arrangements.

He is dedicated to works that travel in the fields of both experimental music and concert music, in addition to performing sporadic live performances in a solo career. Currently, he's finishing his Bachelor course of Composition at UFBA, in addition to managing the own label GC Sound Artifacts. georgechristianmusic.wixsite.com/site/

"Resgates Passados" was intended to show the Latin-American Primitive vein that George has played since his debut in 2010, "Às Vezes Sempre". He's playing an amplified Ibanez acoustic guitar, and the tuning is D A D G A E, with capo on 3rd fret. George wanted not only to bring Fahey's vision of blues or Basho's arpeggiated droning, but also his own Northeastern modalities and complex harmonic sense into the composition.

David Ian Roberts:

David Ian Roberts is a singer songwriter & guitarist who lives in Cardiff, Wales. He has released 2 albums with Cambrian Records - Travelling Bright (2019) and From The Harbour (2020).

"Most of my music has elaborate arrangements and lots of instruments, so this was an interesting process to compose something just for solo guitar. I took some inspiration from my friend Toby Hay's guitar playing. The tuning is CGCGCD, which is very versatile and allows you to switch between major, minor and various modes easily."

Crowyote: Ranchos Rains

In the midst of a tempest's gloaming, Crowyote emerged from the craggy corridor of two rivers wielding a guitar imbued with the threnodies of nature's recondite allies. He roamed to the nearby mountain town, where denizens recognized the visage of a transient tatterdemalion, Perry Brooks Nichols. He had been lured from a family visitation into the foothills by a shamanic trickster, they had feared he'd fallen to the gorge's insatiable hunger. While traversing the etheric void, he had forged meditations on ancient modes, exotic airs of eastern ragas, primitive rhythms and disparate harmonies into his voice. The locals danced, rejoicing to his metamorphosis; yet, without a trace he vanished ceding only the echo of memory.

"Ranchos Rains is inspired by the time I spent with my uncle David during many summer monsoon season in Ranchos De Taos, New Mexico. The rainclouds would march over the mountains in midday like clockwork and proceed to drench the luminously delineated landscape in a refreshing deluge with an occasional turbulent thunderstorm. The main theme is based on Raag Desh Malhar, but it contains a "ragamala" or modulation to the romantic Raag Piloo during the rumba section."

the Man from Atlantis: Silent Winds

the Man from Atlantis is the moniker for Melbourne, Australia musician Mike Sil. Mike started 90s experimental noise, prog-rock outfit Ray of Creation with Anthony Paine in the early 90s and went on to form krautrock duo Imperial Leatherman in 2000 with Stevie Richards.

the Man from Atlantis and its various iterations is an extension of ideas formed in his previous bands and sonically traverses somewhere between American Primitive guitar and raga, blues, acid folk, to heavy psych.

Silent Winds: While paying homage to Fahey and Basho, Silent Winds refers to the tranquillity and stillness experienced during meditation and the (winds) five hindrances encountered that often can become a distraction - ill will, desire for sense experience, restlessness and anxiety, sloth and torpor, and doubt. These states that arise during restlessness highlight impermanence and the constantly changing world around us. Nothing is knowable and certain except love and death. In a state of knowing or equanimity the mind resists against the pull of the silent winds. Silent Winds is played in CGCGCE.

Ameel Brecht: Moving Islands

Ameel Brecht is a Brussels-based musician and composer, who has a life-long involvement with the guitar. His solo guitar music focuses primarily on the use of resophonic guitars and mandolins, as can be heard on Ameel's debut album "Polygraph Heartbeat" (Kraak, 2018) and on his soundtrack for the Bas Devos film "Ghost Tropic" (premièred at Cannes 2019).

On Moving Islands Ameel returns to his nylon-string classical guitar and wrote this song for his longtime friend Thomas Steyaert. It was recorded by Mathijs Bertel.

Inside the Outside: © All right reserved.
Mastering: Anders Peterson @ Ghostounds Mastering and Post, Stockholm, Sweden.
Design: Kon Tzas.
Compilation curation: Mike Sill.

Bands on this compilation