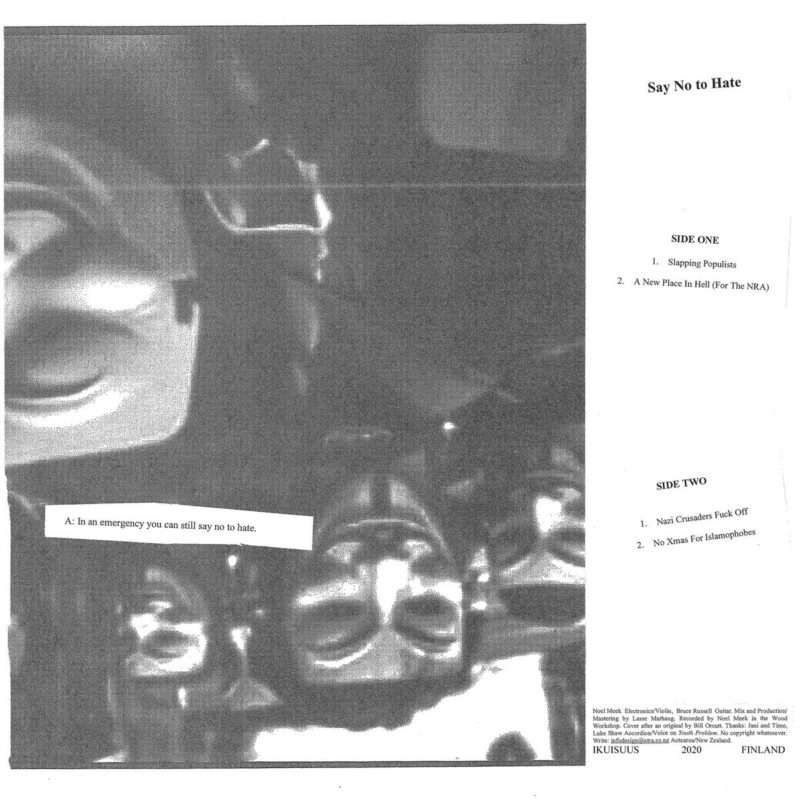 Noel Meek & Bruce Russell
BACK IN STOCK!
Edition of 200 copies

Tracklist:

1. Slapping Populists
2. A New Place In Hell (For The NRA)
3. Nazi Crusaders Fuck Off
4. No Xmas For Islamophobes

******

Bruce Russell and Noel Meek return with their second harsh noise collaboration. Their first, 'Classical Music' (2018) was an all-electronics wrestling bout that simulated engine testing on a long-haul passenger jet. Their new album combines guitar, violin and electronics and was recorded in a wood workshop. You can hear the power tools, even though none were actually used. Extreme noise can sometimes be associated with offensive, racist or extreme-right views. The New Zealand duo have chosen to spotlight that problematic tendency by recording their new record in Christchurch, scene of that country's worst right-wing terror atrocity, and calling it 'Say No to Hate'. It is an affirmation of life and collaborative solidarity, one of the signature characteristics of the fully international scene from which it springs. Mixed and mastered by Lasse Marhaug.