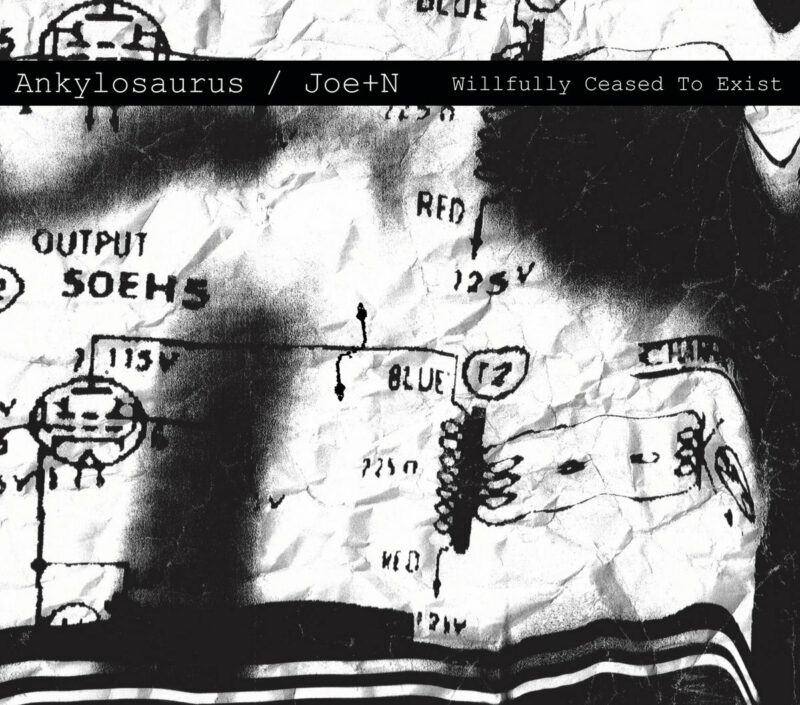 Ankylosaurus
/
Joe+N
Willfully Ceased To Exist
CD
Ankylosaurus' tracks on this split CD were all improvised, each in one take. No edits or overdubs. One amp, cab, a couple pedals and a franken-bass. These are seriously thick and heavy slabs of low-end meditations. Think Earth 2. More of an Awareness thuds along, fuzz drenched, with subtle phaser, like walking thru a blizzard, or a sun-drenched highway, ever searching for a reprieve from the onslaught. Ceased to Exist, steady and crunching, gets interrupted at the mid-point, with frantic fret-board action, circuit starved, and eventually coming back to stare at a wall of slower, sustained heavy-fuzz washes. Ankylosaurus is the solo moniker of T.Penn of the NJ based weirdo rock outfit Human Adult Band.

Joe+N, who is 1/4 of the psych-aktion unit Pengo, also works in the improv framework, creating these tracks from various one-take recordings. Terms of Measurement is a phaser-drenched guitar and drums mid-tempo jammer, which fades into a free-noise guitar medley. The Deepest is an acoustic gestalt created from acoustic guitar, tibetan bowls, and Tony Conrad-inspired drone violin. This is one of the first Joe+n recordings to feature his primary instrument, drums, as well as his latest tool for exploration, violin.


Ankylosaurus
1) More of an Awareness than a Practice
2) Ceased to Exist

These tunes were recorded during the summer of 2021 in what was formerly the Symphonic Radio & Electric Corp of New Brunswick, NJ. The titles/tunes are not about suicide.

Amp, pedal & bass-T Penn
Engineering- Phil Connor

Joe+N
3) Terms of Measurement
4) The Deepest

Recorded and mixed by Joe and Chris Reeg at Carbon HQ and The Liquor Store in the spring of 2022.

All tracks mastered by James Plotkin.